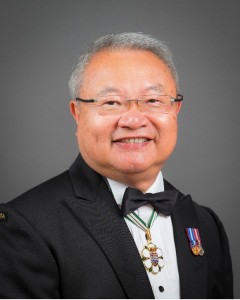 Tung Chan is the Chairperson of the Board of Trustees of the Canadian Museum of Immigration at Pier 21 and an Honorary Captain of the Royal Canadian Navy. Tung is also a member of the Board of the Vancouver Foundation, the Laurier Institution and the Canadian Foundation of Economic Education.  From 2006 to 2010, Tung was the Chief Executive Officer of S.U.C.C.E.S.S. (a group of registered charities dedicated to the creation of a world of multicultural harmony by building bridges, harvest diversity and foster social integration).
Tung holds a Bachelor of Arts degree from the University of British Columbia and a General Management Diploma from the Institute of Canadian Bankers where he is also a Fellow.
Tung has lived in Holland for three years and has worked as a stock broker in Hong Kong.  Since coming to Canada in 1974 at the age of 22, Tung has been a Councillor and a Deputy Mayor of the City of Vancouver, manager of a Royal Bank branch, a Vice President of the TD Bank Group and a District VP of TD Canada Trust where he had operational and strategic responsibilities for two overseas branches (Hong Kong and Taiwan) and 17 domestic branches.
Tung has volunteered his time in leadership positions of numerous civic, cultural, business and educational organizations.  The following is an illustrative list of organizations that Tung has served: E-Comm Emergency Communications (Board Chair), Richmond Public Library (Board Chair), Fairchild TV (Program Advisory Committee Chair), International Financial Center Society of BC (now known as Advantage BC; Vice Chair), BC Premier's Chinese Community Advisory Committee (Member), Province of BC Equal Opportunity Community Advisory Board (Member), Kwantlen Polytechnic University (Board member), Asia Pacific Foundation (Board member), the Immigrant Employment Council of British Columbia (Board member), the Metropolis BC (Board member), Rick Hansen Institute, the United Way of the Lower Mainland (Board and campaign cabinet member) and most recently the BC Immigration Task Force (member).
Tung was a frequent commentator in the media on social, multicultural and immigration related issues.  He used to have a blog page in the Vancouver Sun.
In 2002 and 2012, Tung was awarded the Queen's Golden and Diamond Jubilee Medal in recognition of his contribution to the community.  In 2013, Tung received an Honourary doctor of laws degree from University Canada West.  In July 2014, in recognition of his community leadership, Tung was invested into the Order of British Columbia by the Honourable Judith Guichon, Lieutenant Governor of British Columbia. 
In his leisure time, Tung enjoys reading, swimming and travelling.